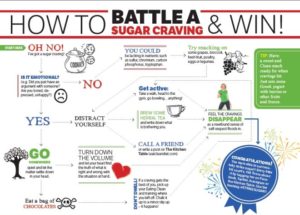 Additional tips that can be REALLY effective at minimizing those cravings during the holidays:
Start your day with 20-25 grams of a high-quality protein source.  A GREAT way to do this is by drinking a GREAT meal replacement/protein drink/medical food from on of the great companies out there:  Metagenics, Pure Encapsulations, Orthomolecular Products, Thorne Research, etc.
Try taking 200mcg of chromium 1-3x/day.  This important mineral has a lot of positive impact on blood sugar and insulin thus can be important in helping to control those carbohydrate and "sugary food" cravings.
If the cravings are REALLY strong – try immediately drinking two BIG glasses of water and go find a healthy protein source and take a few bites of this.  This helps fill you up, stops cravings, and improves hydration.
Sugar Cravings – Day 11 of 25 Ways to Wellness Holiday Countdown