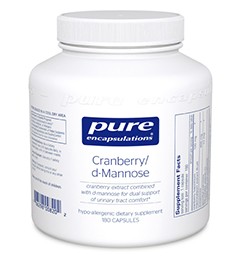 D-mannose is being increasingly used as an effective alternative to antibiotics for various conditions. A simple sugar, d-mannose is found naturally in high amounts in many fruits such as apples, oranges, and peaches, as well as blueberries and cranberries. Vegetables, including green beans, cabbage, and broccoli, are also a common source. In addition, d-mannose occurs naturally in some cells in the human body and is thought to be a prebiotic, because consumption of d-mannose stimulates and fosters the growth of good bacteria in the digestive tract.
Background

Chemically, d-mannose is considered a simple sugar. Structurally, it is similar to glucose, but it is absorbed more slowly in the gastrointestinal tract. This accounts for its lower glycemic index. Compared with actual glucose, which is readily absorbed and has a glycemic index of 100, mannose must first be converted into fructose and then into glucose, significantly blunting the insulin response and reducing its impact on blood sugar levels. After mannose is absorbed by the gut, it is not stored in the liver like glucose but is filtered out of the body directly by the kidneys.
Science 

Mannose is of interest to health researchers for its possible use in a variety of conditions. One of these is its potential application as an early marker of impaired glucose tolerance. In a study of 273 subjects with and without diabetes that investigated the relationship between fasting plasma mannose levels and fasting plasma glucose levels,1 mannose absorption showed a relatively flat postingestion curve, compared with glucose, with less variability throughout the day. The fluctuations were, however, very closely correlated, suggesting the possibility that mannose might be used to detect alterations in glucose metabolism earlier than is currently possible.
Perhaps the most promising use for d-mannose is as an anti-infective agent. Most research to date has been done in the area of urinary tract infection (UTI), specifically in women. This common complaint accounts for nearly 8 million visits to a healthcare office and 1.5 million trips to an emergency department each year, at a cost of more than $3.5 billion in the United States.2
In addition, there are a growing number of reports that document microbial resistance to traditional antibiotics, increasing both the cost and morbidity of this complaint.3 A study of nearly 200 female college students presenting with symptoms of UTI found that more than 40% of infections were resistant to first- and second-line antibiotics.3
The most common offender in UTI is Escherichia coli.4 Interestingly, there is a little-known triad involving d-mannose, E coli, and UTI. For generations, women have been told to drink cranberry juice when symptoms of a UTI begin. The high d-mannose content in cranberry juice is the most likely reason for its efficacy for symptoms of UTI. E coli are known to adhere to uroepithelial cells,4 and d-mannose has been shown to block E coli receptors effectively and literally flush bacteria away.5
D-mannose has also been found to slow recurrence of UTI. A group of researchers studied 60 women with recurrent UTI (defined as ≥3 occurrences within the previous 12 months).6 Participants were randomly assigned to either trimethoprim/sulfamethoxazole or daily d-mannose for 24 weeks. In the antibiotic group, the mean time to recurrence of UTI was approximately 53 days. For the group treated with d-mannose, time to recurrence of UTI was 200 days.6
Safety, interactions

D-mannose is considered very safe because it occurs naturally in many foods. Doses higher than what is consumed through normal dietary intake, however, may result in abdominal bloating or diarrhea.7 D-mannose supplements should not be used during pregnancy or when breastfeeding, and individuals with diabetes mellitus should not take d-mannose. No actual drug interactions are known.
How supplied, dose, cost 

A dose of 2 g every 2 to 3 hours is usually recommended for the management of uncomplicated UTI. Foods high in d-mannose, such as black currants, red currants, gooseberries, cranberries, tomatoes, apples, peaches, oranges, blueberries, and certain vegetables, may also help with symptoms but will likely not contain a sufficient amount of d-mannose to treat a UTI adequately. A daily dose of 2 g has been recommended to prevent recurrence of UTI.8
The average cost to treat acute symptoms of UTI for the recommended 2 to 3 days is approximately $20.
Summary

Healthcare providers must always assess patients with UTI symptoms appropriately for more serious conditions, but for those with UTI that would otherwise be treated with antibiotics, d-mannose may be one of many first steps in the war against antimicrobial resistance.
References

Sone H, Shimano H, Ebinuma H, et al. Physiological changes in circulating mannose levels in normal, glucose-intolerant, and diabetic subjects. Metabolism. 2003;52(8):1019-1027.
Amalaradjou MAR, Venkitanarayanan K. Natural approaches for controlling urinary tract infections. In: Tenke P (ed). Urinary Tract Infections. InTech. http://www.intechopen.com/books/urinary-tract-infections/natural-approaches-for-controlling-urinary-tract-infections. October 3, 2011.
Olson RP, Harrell LJ, Kaye KS. Antibiotic resistance in urinary isolates of Escherichia coli from college women with urinary tract infections. Antimicrobial Agents Chemother. 2009;53(3):1285-1286.
Abbo LM, Hooton TM. Antimicrobial stewardship and urinary tract infections. Antibiotics (Basel). 2014;3(2):174-192.
Bouckaert J, Berglund J, Schembri M, et al. Receptor binding studies disclose a novel class of high-affinity inhibitors of the Escherichia coli FimH adhesion. Molec Microbiol. 2005;55(2):441-455.
Porru D, Parmigiani A, Tinelli C, et al. Oral d-mannose in recurrent urinary tract infections in women: a pilot study. J Clin Urol. 2014;7(3):208-213.
Kiefer D. Vitamins & supplements. D-mannose. WebMD. http://www.webmd.com/vitamins-and-supplements/d-mannose-uses-and-risks. June 14, 2015.
Kranjčec B, Papeš D, Altarac S. D-mannose powder for prophylaxis of recurrent urinary tract infections in women: a randomized clinical trial. World J Urol. 2014;32(1):79-84.
All electronic documents accessed May 27, 2016.
From the July 2016 Issue of Clinical Advisor »  written by:  Sherril Sego, FNP-C, DNP Sherril Sego, FNP-C, DNP
July 07, 2016
ALTERNATIVE MEDS UPDATE
Cranberry/D-Mannose – D-mannose: an effective antibiotic alternative