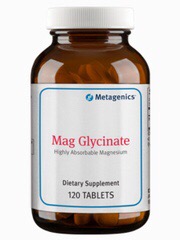 Magnesium Glycinate features a revolutionary amino acid chelate designed to enhance absorption and intestinal tolerance.*
Magnesium is an essential mineral that acts as a cofactor in many metabolic and nervous system processes, and it also helps to support muscle relaxation and nervous system health.*
Unlike other formulations, the magnesium found in Magnesium Glycinate is specifically designed to:
Be absorbed via a mechanism similar to that used by amino acids, which differs from typical mineral ion absorption*
Not be dependent on stomach acidity for absorption*
Improve bowel tolerance of magnesium*
I use this in my practice for patients with: Headaches, menstrual cramps, sleep, blood pressure, and stress/anxiety.
Available to purchase today on our online supplement store 
Magnesium Glycinate – a very versatile mineral with many health benefits