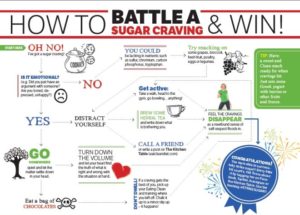 Simple tips to help reduce sugar cravings this holiday season by a licensed Naturopathic Doctor: 
Reducing those sugar cravings can be as simple as starting your day with 20-25 grams of a high-quality, healthy protein source.  This can be from eggs, animal protein, or consider trying a healthy, hypoallergenic meal replacement protein drink.  Some of the companies that make tasty, high quality protein drinks include:  Metagenics (most of their UltraMeal Drinks), Designs for Health (try their PurePaleo) and Xymogen (Fit Food, Brain Sustain – referral code needed is: royals).
Try taking 200mcg of chromium 1-3x/day.  This important mineral has a lot of positive impact on blood sugar and insulin thus can be important in helping to control those carbohydrate and "sugary food" cravings.
If the cravings are REALLY strong – try immediately drinking two BIG glasses of water and go find a healthy protein source and take a few bites of this…. and wait a few minutes before eating a tasty treat.  This helps reduce your cravings and fills your stomach so you eat less, and improves hydration all at the same time.
Dr Brown's simple tips to help reduce sugar cravings during the Holiday Season